Broadcast date: November 5th, 2020 – Language: German
In this episode we will take a look at the history of SysML. Tim as a member of the first hour, can tell a lot about this. Why was SysML formed in the first place? Was UML not enough?
There were and are other OMG standards that have developed in parallel and are now merging again to form SysML v2. If you are wondering "What do you mean, no more UML metamodel?" we'll go one better: A possible UML v3 could also get a new common basis together with SysML v2.
Notes: German episode; this episode can also be listened to as an audio podcast only.
Show Notes
Timeline of the SysML history
Click on the links to open the corresponding documents or websites
1997 UML 1.1
1999 Request for Information UML 2.0
2002 Request for Information UML for Systems Engineering
2003 Request for Proposal UML for Systems Engineering
2007 Published SysML v1.0
2007 Kick-off INCOSE MBSE Initiative
2008 SysML 1.1
2009 Request for Information SysML
2010 SysML 1.2
2011 fUML 1.0
2012 SysML 1.3
2012 SyM 1.0
2013 Alf 1.0
2014 Kick-off SysML Roadmap WG
2015 SysML 1.4
2015 PSCS 1.0
2017 SysML 1.5
2017 Request for Proposal SysML v2
2017 Charter SysML v2 Submission Team (SST) 2018 Request for Proposal SysML v2 API & Services
2018 SysPhs 1.0
2019 SysML 1.6
2019 PSCS 1.2
2019 PSSM 1.0
2020 fUML 1.5
2020 Initial Submission SysML v2 2020 September-Release der SysML v2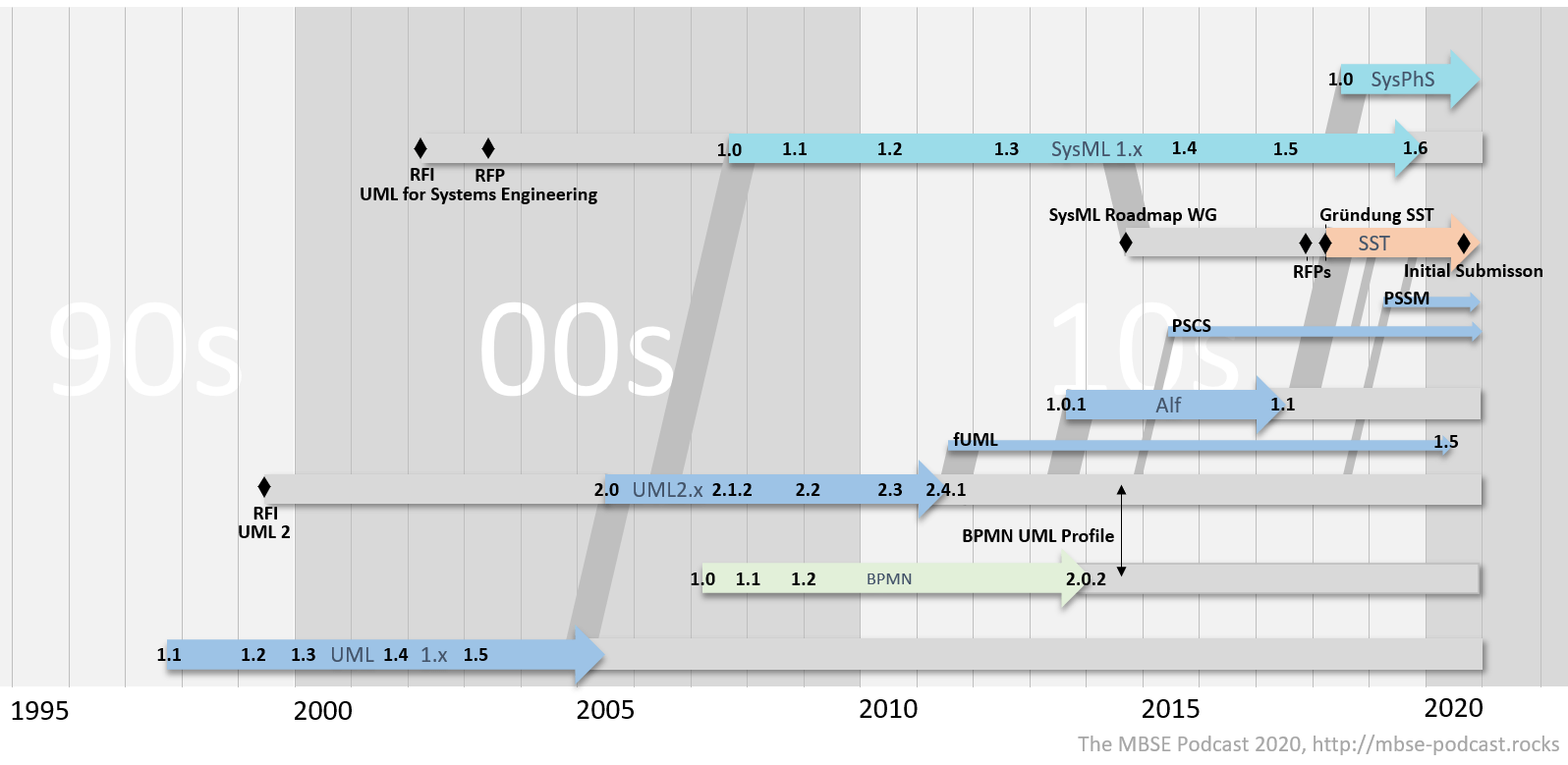 Podcast: Play in new window | Download